'Farmville Cars.com' is the website name for, and owned by, Dave's Auto LLC
Meet The Team
Farmville Cars is approved and licensed in the State of Virginia as an Authorized Motor Vehicle Dealer
We are open: TUES. - THURS. 9:00am - 5:00pm
Appointments: Please call 434-390-6223
"We look forward to meeting you"
David Furlong - Owner Operator: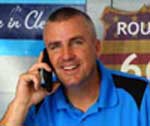 Thank you for giving us a chance to earn your business!
Selling cars has always been a dream of mine. I remember being very young and playing "Car Dealer." I would sell my friends and family members Matchbox cars off of my front porch!
Since selling Matchbox cars didn't pay the bills, I went on to college. After graduating, I became a Police Officer in Readington Township, NJ. After retiring, my wife and I decided to move down to Farmville, VA. It was then I decided to start selling quality used cars that were at a reasonable price point for the people in the surrounding area.
Since then we have continued to steadily grow every year. I am a part of every sale we do and I treat people like I would want myself or my family members to be treated.
Purchasing a vehicle can be time consuming, frustrating and tedious. I do my best to make it as enjoyable and easy as possible. I have the utmost confidence in our cars and I appreciate you considering us for your next purchase!
Please Call me: 434-390-6223 or
E-mail: David Furlong
Bryant Jackson - Sales and Service
Hi! Bryant here and Thank You! for visiting Farmville Cars.
Have a sit down and let me tell you a little bit about myself and how we operate.
Since a early age I've always found myself fond of motor vehicles, pretty much anything with a motor or engine. I've always wanted to know how'd it worked, what moved the machine and created the power, the noise!
Growing up I would help out my uncle with his projects around the yard or even offer to wash the cars, start them up, rev the engine and even look them over as if I was buying them.
That just made me fall in love with the beauty of machine. Later on then as my high school days would approach, I join the automotive program to learn how to work on and fix a vehicle. It was enjoyable, relaxing, and I was in my own world.
After Graduating high school I decided to take my education further and I attended Lincoln College of Technology in Columbia, Maryland. That's where I learned all the 'ins and outs' to a vehicle. Graduating Lincoln in the fall of 2010 I worked for Apple Ford and Goodyear, Both very great places, but it wasn't my calling. I knew I wanted more, I wanted to drive every car in the world, I mean who doesn't.
When Dave offered me a job as a detailer back in 2012, I was excited I was able to wash different cars and enjoy my work. Once we were able to start buying and selling cars, that was the icing on the cake my dreams had come true. I could finally drive cars of my dreams and having automotive knowledge worked out great!
Now I can use that knowledge and apply it to the cars for sale.